Because of the increasing number of different bra manufacturers and the sizing differences between their products, it has never been more important to have a professional bra fitting to find your perfect fit. At the Bra Patch, our staff has many years of experience serving thousands of women from all over the East Coast with successful bra fittings, regardless of their individual needs.
Come to the Bra Patch in Raleigh, NC for a Professional Bra Fitting
With One of Our Thoroughly-Trained, Highly-Experienced Staff Members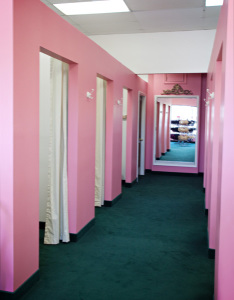 The process begins in our private fitting rooms, where one of our trained fitters will talk with you one-on-one to discuss your specific concerns with your current bras and your goals going forward. Once we take a band measurement as a starting point, we use our experience and knowledge of our products to find a few bras to try. The real fine tuning begins upon assessment of the fit and feel of the first few bras we try, and gauging what is working and what is not working as the process continues enables us to find your perfect fit.
It is important to note that there is no single, "magic" formula for taking measurements to determine your perfect bra size. Because bra sizing varies across different brands and even across different lines within the same brand, it is important to consult an experienced, trained professional to find your best fit. At the Bra Patch, not only do we carry a comprehensive array of bra band and cup-size combinations, but we also have many beautiful fashion styles, patterns, and colors available to help you spice things up and get away from the standard white, black, and beige.
Our knowledge and skill totally removes any guesswork and the frustration you experience when trying to find a properly-fitting bra at a department store.
Call us at

919-876-8677

, contact us, or visit our store today to learn more about the fine products we carry and the experienced, professional services we offer!
Bra Fittings
was last modified:
October 16th, 2014
by